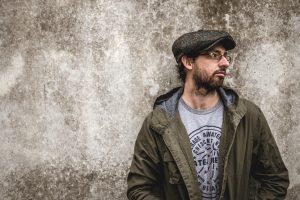 Raised in country New South Wales, Australia, Aaron began playing guitar at age 10 after being inspired by Stevie Ray Vaughan. He was influenced by his father's record collection, especially by great blues musicians like BB King, Buddy Guy, Little Walter, Jimmy Reed and Howlin' Wolf.
He began playing music professionally during high school. After high school he was accepted into the Conservatorium of Music on both jazz guitar and jazz vocals, where he studied music theory for twelve months before leaving to take up a short-term teaching position. He has made a living from music ever since – playing thousands of gigs throughout the world, studio session work, singing jingles for TV and radio, writing and arranging etc.
He has had the privilege of meeting, playing, recording, studying, and living with some of the world's best musicians and singers. He has appeared on most major Australian television networks. His original songs have received airplay both in Australia and overseas.
After years of being a sideman musician – playing other people's music – Aaron has started leading his own band, where he can play the music that excites him; the legendary African-American styles of Soul, Blues, Funk, Jazz, Gospel, R&B etc. and especially the music of New Orleans.